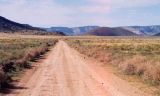 There was a couple, very nice people actually, who did not appreciate what it means for a place to be desolate. They rented a car out of someplace in Utah, stayed the night in a campsite near the rim, and decided to listen to the car's compact disk player while it was raining the night before.
These people were unpleasantly surprised the next morning when their car would not start. That was mistake number one.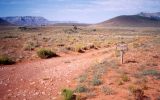 As the campsite was along the one and only road to the Toroweap overlook, they should have waited in the roadway or walked the one-mile journey to the overlook and enjoyed the view until somebody showed up. Since they were not at the campsite closest to the rim, I figure they had to know that others were camping nearby.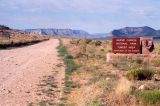 When I ran by them, and stopped to chat for a bit, they were 3 Km (two miles) away from the rim, walking toward the ranger station which was still 6 Km (four miles) ahead of them. These folks were seriously obese and I had to figure their effort just walking along the road in the heat was comparable to my effort running back to my airplane. They insisted the ranger station had a telephone because it said so in their guidebook.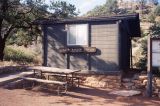 Before resuming my run back to my airplane, I pointed to the rim, said, "two miles, somebody there," pointed to the ranger station, said "four miles, maybe a telephone, your choice." They kept walking toward the ranger station, away from their car. That was mistake number two.
Lucky for them, they got a ride to the ranger station where there was no telephone to be found. (Why am I not surprised? This was a totally abandoned station on a deserted road.) The fellow who gave them a ride was going to take them to Kanab, Utah, where there were going to have to talk to the Alamo car rental company and to figure out what to do next.