Saturday
We were awakened at five in the morning for five-thirty breakfast, again the same menu every day. We got our shit together, water and packs and cameras and film. As luck would have it, the DL-123A batteries in my point-and-shoot 35mm analogue Olympus gave up the ghost first thing this morning and I was glad I had the extra set of batteries for it.
The Bright Angel trail goes along the river for about a mile and then begins its climb, longer and gentler than Kaibab. Greg chose our itinerary to favor the South Kaibab views and sunshine on descent and the Bright Angel shade and longer, less intense climb, one shared by many other hikers as well.
The morning was calm and overcast and forecast to get worse as we climbed the Bright Angel trail to the south rim. Damp air turned to drizzle and light rain, rain turned to sleet and snow with no accumulation. Along with the precipitation, dirt trail turned to sloppy and occasionally-slippery mud.
The views from Bright Angel are narrower, less expansive than those from South Kaibab because the Bright Angel trail climbs a narrow side canyon of its own. The views behind us to the inner canyon became cloudy-gray and mysterious as we ascended until, finally, Greg and I were in the clouds ourselves [3].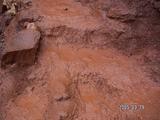 The top was cloudy and gray, drizzly, snowy, and damp. We took our got-to-the-top picture and ambled, aching, to Greg's car for the drive home. In our haste to begin our adventure, Greg had left his lights on and neither of us had enough energy for a push start. (I know, I actually tried.) We drove through snow in Flagstaff and back into the clear evening in Phoenix, the Valley of the Sun.
It was a great trip and I thank Greg for twisting my arm, it didn't take much torque, to getting me to take this trip. I have friends who have taken the trip down one day and back up the next, but this is my first time. Based on how sore I was the next few mornings, I put the effort somewhere between a half-marathon race and a full standard marathon race of 42.2 Km (26.2 miles). The difference between the Grand Canyon ache and a running-race ache is that the muscles are sufficiently different that I could run fairly easily two days later.
Three days later I did a short hike after work a mile up Camelback here in Scottsdale and the hike wasn't so hard, neither up nor down, but the six-mile bicycle ride from Camelback to my home was very long and tiring. Now I'm thinking about my next Grand Canyon hike.
NOTES

1. I'm figuring that sold-out Phantom Ranch has a capacity of not quite a hundred sleepovers, some of those are the same people staying multiple nights, around 30 thousand per year. Double that figure to account for people camping and we get about 60 thousand people going to the bottom. This doesn't count day hikers whose risk is substantially less than the overnight crowd, although I wouldn't be surprised if unprepared day-hikers constitute a significant fraction of the 500 rescues each year.

2.

cap
hiking shoes

water
energy bars
snack food (bagels)

digital camera + batteries
analogue camera + film
GPS + charger
cell phone
watch

wallet + money
underwear + slippers
headband
biking/hiking gloves
rain gear (light pancho)
sunscreen
petroleum jelly (Vasoline)
running/hiking glasses

3. In most airspace pilots have to file an instrument flight plan to fly in the clouds. At least we don't have to file an instrument flight plan to hike in the clouds.