Now I'm Back Home
<! : 5eg 5ej tj6>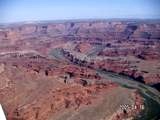 I plan to return to Arches and I would like to run and hike the Lathrop trail again, next time with enough water.
How did I run out of water so easily? After all, I have done twenty-mile runs in weather this warm (25° C., 80° F.) without supplemental water and without any problem. I take supplemental water and sports drinks when I run marathons and I'm still dehydrated enough to degrade athletic performance but I'm never dehydrated enough to get sick. I think the big difference between then and now is that I was out there for a long time, eight hours, perspiring and breathing all that time. Also, I suspect the previous day's effort left me water-depleted without realizing it.
<! : 5eh 5ej tmb>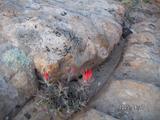 As for the near death experience of finding myself dehydrated and heat-exhausted with three miles (5 Km) to go and a thousand feet (300 meters) to climb, it occurred to me that I might not make it, but it never occurred to me to behave that way. I did whatever would maximize my chance of making it back with minimum ill effects afterward. (I suspect I wasn't all that near to death's door, just feeling lousy enough to learn a lesson for next time.)
Six days later I went to an Arizona-Pilots-Association meeting at Pasyon Airport (PAN) with a presentation on survival skills. According to our speaker, Tony Nester, assuming I understood him correctly, most of the people who get stuck in survival situations die because they give up and decide they don't have the strength to pursue their own survival. Also, those that do find the will to survive have a strong belief in some higher power.
<! : 5eg 5ej tk0> <! : 5eg 5ej tk0> <! : 5eg 5ej tk0>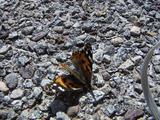 Let me assure all my friends that I never considered help from any power higher than my own self. There is a point in almost every race I have run, usually about two-thirds of the way through, where my body is telling me to let up and I have to remind myself that I'm going to have to get to the finish line on my own efforts and nobody but me is going to help me get there. This case was reality instead of a running race, but effort is effort, pain is pain, and commitment is commitment. Lessons learned on the cross country running course are applicable elsewhere, in lots of places in fact, some mental, some emotional, and others physical.