| | | | |
| --- | --- | --- | --- |
| <! 11 > <! : 6nr 6ns omo > | <! 12 > <! : 6ns 6ns rxe > | <! 13 > <! : 6nr 6ns opq > | <! 14 > <! : 6f1 6f2 qy0 > |
| <! 21 > <! : 6ns 6ns ryg > | <! 22 > | <! 23 > <! : 6nr 6ns olb > | <! 24 > <! : 6ns 6ns ry7 > |
Hiking
<! : 6nr 6ns onm >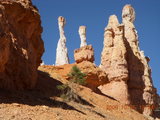 Bryce Canyon National Park is a day-hiker's paradise. Arches has only one hike over three miles (5 Km) while the Grand Canyon seems to specialize in multi-day backpacking adventure treks. I ran into some people who had visited Bryce Canyon before but had only seen it from viewpoints and now they were hiking it. I winked at them and said, "Now that you've hiked it, you know the secret. This is the way really to see the park. The folks gawking at the rocks up there are weenies missing out on the good stuff." I said it tongue partway in cheek, but there's some truth there.
If the Grand Canyon is about looking down, if Zion is about looking up, if Canyonlands is about looking out, then the beauty of Bryce Canyon is intimate, right in your face. Some rock shapes are within arms reach, close enough to touch, while others are vista views. Color is a recurrent theme in the Bryce Canyon experience with sulfur yellow, iron red, magnesium purple, limestone or quartz white, and some copper green layered and woven in the rocks.
<! : 6nr 6ns on1 >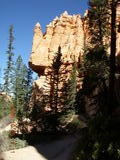 The shapes are also magnificent with human-shaped "hoodoos" in rows and clusters amid taller rocks of various shapes and layers of hard and soft rock forming all kinds of formations. The trails wind in and around these formations so the hiker is immersed in the beauty. Sometimes there are vista views below, sometimes there are tall, towering forms above, and often there are shapes all around at eye level. Pine trees are all around to add an evergreen shade to the myriad rock hues.
<! : 6nr 6ns oor >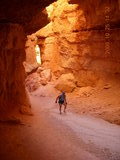 One can have all kinds of mystical revelations at a place this beautiful, a place that attracts people from all over the world. My friends will tell you I'm not a religious person, nor any kind of mystical person, but I believe we can have sanctity without piety. (Did I get my metaphysical and metaphorical terms right?) Hearing Beethoven's "Appassionata" piano sonata, seeing the female face painted by Leonardo, being in the presence of the Taj Mahal, or tasting a really fine wine affirms to us that there are things so beautiful that they deserve to be holy even though theses examples are works of man rather than nature. For each of these, there was a morning when it didn't exist and an afternoon it was here for all of us to enjoy, perhaps with more than a few days in between.
<! : 6f1 6f2 qy2 >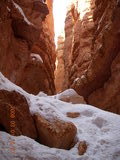 Similarly, the American southwest has many places beautiful enough that they deserve to be holy. Bryce Canyon is one of them, perhaps the holiest of all of them. Its beauty is really within us and our ability to perceive it. The ancients said that bad people were turned to stone to spend eternity there, but I don't believe the gods would allow bad people to spend eternity in such a beautiful place. Instead this hiker chooses to believe, at least for the duration of my joyous jaunt, that when the purest and truest souls die, they can become hoodoos in this wonderful place to spend their eternity amidst its beauty.
<! : 6ns 6ns rvp >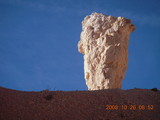 I have my hoodoo picked out in case I earn it and the gods are nice enough to give me a choice where to spend my eternity. (What the hell? It's no sillier than the official religions and it's a lot better way to spend eternity than most of their afterlives.) I can go back to my old-testiment view that life truly ends with death when I leave this place.
This hiker is also getting a workout. The trails go from 8300 feet (2530 meters, 755 millibars) down to 7100 feet (2165 meters, 790 millibars) with plenty of hills down and up. I'm a runner who can run ten miles and a hiker who has can hike ten hilly miles and I found my pulse quickened as I hiked up the hills back to trailheads.
<! : 6nr 6ns opn >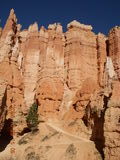 I would love to say I never got tired this trip, but I had to work hard to enjoy the pedestrian part of my vacation. Part of the adventure is the challenge and the fatigue, so I wasn't disappointed. I was glad I didn't get tired to the point of exhaustion where I wouldn't be able to enjoy the scenery and the mood. The advantage of being an endurance athlete, albeit a slow one, is that I can endure. I could keep moving and keep enjoying the scenery all afternoon and the next morning. My major fatigue issue was my toes got a little sore, no blisters, just a little sore, going down the latter, later hills on Sunday morning.
<! : 6nr 6ns oly >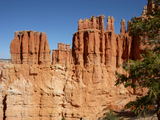 Saturday afternoon I started at Sunrise Point where I got one of the last, and farthest, spaces in the parking area. One of my issues in planning these trips is crowds. I like people and friends, I like nature and beauty, but I usually don't like them at the same time. The window between summer crowds and winter snow at Bryce Canyon is narrow. So I ran into people along the trails, enough to be friendly, not so many to feel crowded. Most of the time I was alone but there was a friendly face often enough to smile and to share the beauty of the place. There were no screaming children and there was one group of three loud-talking guys who passed by me, stopped while I passed by them, and seemed content to stay where they were so I didn't hear them again.
<! : 6nr 6ns oo3 >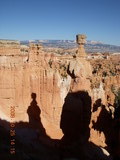 I left Sunrise Point along the Queens Garden trail down through all the weird formations to level crossover trails that are mostly trees with rocks in the background. Those trails took me to the Peek-A-Boo horse-trail loop which has the wildest views and tough hills to earn them. At the far point of Peek-A-Boo is a tough climb to the zenith of my hiking at Bryce Point where I glanced at the vista view of the amphitheater and turned back to other side of the Peek-A-Boo loop.
Let me have a few words about the amphitheater at Bryce Canyon. It's not really a theater, amphi- or otherwise. While the entire park is strewn with hoodoos, they're concentrated in an almost-circular region in the middle, maybe 3000 meters (two miles) across. This arena of frozen souls is shaped like an amphitheater so they call it the amphitheater. It can be seen from above at several vista viewpoints with vista-view names like Sunrise Point, Sunset Point, Inspiration Point, and finally Bryce Point. It can be seen from inside on the trails I hiked on Saturday.
<! : 6nr 6ns ooy >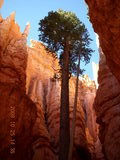 Sunday's journey is at the north end of the park near the entrance. It's the Fairyland loop that includes the rim trail from Fairyland viewpoint to Sunrise Point, the Tower Bridge trail down from there to a natural bridge in the rock that looks a whole lot like London's Tower Bridge, and the Fairyland trail back up to the Fairyland viewpoint.
The 4-Km (2.5-mile) rim trail is flat and smooth enough to run most of it with my water-pack bouncing gently on my back, especially the downhill parts, especially the part behind hills with no view of the hoodoos. It's a nice way to warm up in the coldest part of the day. I started with spandex on my legs and two long-sleeve t-shirts and finished with one of those t-shirts packed in my CamelBak pack.
The 3-Km (two-mile) Tower Bridge trail descends through beautiful formations of hoodoos, tall rock shapes, views of the east valley, and undulating terrain. The spandex leg warmers were stuffed into the pack on the uphill after I passed Tower Bridge.
<! : 6ns 6ns rwn >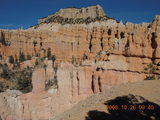 The remaining 6 Km (four-miles) goes up and down and around Boat Mesa, a multi-level, multi-colored hoodoo conglomeration that looks like a boat from almost any angle. The path goes right past the bow of Boat Mesa and the view commands attention. Not too long into this part of the hike, the last long-sleeve shirt goes into my pack and I'm down to my usual shorts and sleeveless top with matching headband and cap.
By the time I'm back to Fairyland viewpoint, my legs are just tired and my feet are just sore enough that I'm ready for my trip home. I'll leave this place with the confidence that I'll be here again.
<! : 6ns 6ns rvy >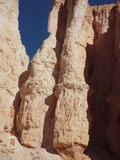 Sometimes I think life is like the computer game Adventure that spawned so many virtual-reality games like it. You know, you pick up the batteries and lamp to light your way, you pick up the key so you can open the lock, and you pick up the cage so you can catch the bird who fetches the wand from the crack in the rock. If you get all the right stuff, maybe in the right order, then you can make it home and win the game. In my travel reality I picked up a sewing kit from a hotel in Las Vegas only to find I needed it to repair my travel pack in Jiuquan.
My hiking pack has all kinds of in-case-I-need-it goodies some of which seem far fetched, but I've needed things like energy bars, sunscreen, petroleum jelly, three liters of water, three extra layers of clothing, and now I carry my SPOT in case of trouble. I still haven't needed the crampons on summer hikes, but I didn't think I would need the headlamp in broad daylight until I found some small caves in Snow Canyon last spring. I ran into a hiker who had a serious headache, he needed ibuprofin pain pills, and I didn't have any. So one more item has been added to the in-case-I-need-it goodies list.
| | | | |
| --- | --- | --- | --- |
| <! 11 > <! : 6nr 6ns osw > | <! 12 > | <! 13 > <! : 6nr 6ns otj > | <! 14 > |
| <! 21 > <! : 6nr 6ns otq > | <! 22 > | <! 23 > | <! 24 > <! : 6nr 6ns oto > |


Night



<! : 6ns 6ns rsl >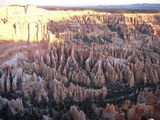 When I got done with Saturday's amphitheater hike, I drove to the south end of the park for my vista-viewpoints tour. Since all the views are east and we drive on the right here, the best strategy is drive to the south end and stop at all the viewpoints on the way back north to the park exit. At the very south is Yovimpa Point with a view into the mysterious Utah landscape, less mysterious to those who fly over it, but still wonderful. The stroll on the Bristlecone loop trail between the two viewpoints here was my last hiking on Saturday.

If there was one fly in the ointment of the weekend, then it was my timing of the sunset view. My GPS said sunset was 5:39 (Arizona time) and I got to Bryce Point at 5:30 to find the sun had already gone over the mountains. The remaining fading light was wonderful as the red hoodoos laced with white fade into white shapes with the red too dark to see. The orange horizon finally faded away into darkness. I used the last fading twilight to come back to the parking lot from the viewpoint and joined a bunch of guys lying on their backs to see the sky. It didn't really matter how goofy we all looked because it was too dark to see us anyway.