| | | | |
| --- | --- | --- | --- |
| <! 1 > <! : 6ps 6ps url > | <! 2 > <! : 6ps 6ps utw > | <! 3 > | <! 4 > <! : 6ps 6ps uqr > |
Flying with LaVar Wells – Part Two
<! : 6ps 6ps uxc >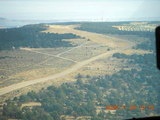 My next trip to Moab, I called LaVar to set up another back-country lesson on 2008 November 26. I realize at one lesson a year I'm not going to be an expert, but I like to think some of my learning would stick for a year. LaVar felt my pilot skills were quite good enough, but my airplane's engine is not performing well enough to get out of some of the places he wanted to take me. I have a new and stronger engine on order for 2009 February, but I'm still flying my 1979 engine. It's working fine, but it doesn't have the <! superior pilot goes here *** > power for these short, high airstrips. LaVar offered his airplane instead with him in the left seat instructing through example and talk rather than right-seat, back-seat driving. It would be a chance to see an expert fly out here.
<! : 6ps 6ps urk >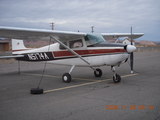 In 1956 LaVar's father bought N5174A, Cessna 172 serial number 174, brand new in Wichita, Kansas, and brought it back to Utah. A few years later it was modified with a 180-horsepower engine, a constant-speed propeller, and short-takeoff-and-landing (STOL) modifications for the wings. It was sold years ago and recently LaVar bought it back. "This is the perfect airplane for the mission" of flying in the Utah back-country. <! EDIT >
<! : 6ps 6ps uu2 >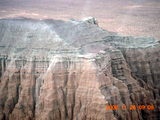 So I climbed into the right seat and we took off together from Hanksville into the beautiful back-country. There are many measures of an airplane pilot, holding altitude, partial panel flight in clouds, keeping navigation needles perfectly centered, navigating in various ways, making perfect coordinated turns, takeoffs, and landings. For a variety of reasons, I have found that landing an airplane in lots of different places (and taking off again) is how I see myself as a better pilot. LaVar seems to feel the same way.

If perfect landings and takeoffs are the standard of the day, then LaVar showed me flying at its best. In addition to the two landings at normal airports we did eight back-country-airstrip landings.


Each was as perfect as I could judge with approach and airspeed aimed at a precise landings point for a gentle touchdown and an easy rollout. Landings not at the immediately closest point were done to avoid rocky terrain that might damage a nosewheel or propeller. Each approach was explained to me as we did it, some were normal traffic patterns while others were more adventurous paths to a landing.

<! : 6ps 6ps uwt >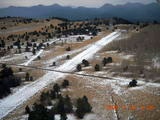 We did not land at Tavaputz Ranch, elevation 9200 feet, length 2500 feet. From a dry runway, N5174A could have gotten us out of there, but there was snow around and the runway would have been muddy. "The superior pilot exercises his superior judgment to avoid exercising his superior skill." Just as the decision to use LaVar's N5174A instead of my N4372J was superior judgment, so was the decision to overfly a muddy runway rather than to land on it. <! EDIT >
We stopped in Sand Wash for bit to enjoy the scenery before heading back south to Canyonlands for fuel. The leg from Sand Wash to Canyonlands was flown mostly in the Green River canyon as I had done a year earlier. Instead of being busy maintaining altitude over the water and spacing between the canyon walls, I was able to enjoy the utter beauty of this place. The canyon's rhythm was apparent as we flew it smoothly and perfectly coordinated. Most of us pilots like to think all our turns are perfect, but we slip and slide a little and the ball wanders a bit for us. As passengers, we can tell when a pilot actually does maintain coordinate turns.
<! : 6ps 6ps uy0 >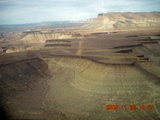 The price of pilot perfection is practice. I recall somebody telling a great musician, "I would give my life to play like you do," to which he replied, "Madam, I have." LaVar has flown this country months, years, and decades. His love for it shows in everything he does in the air and his repect for it shows in how he does it. I may have learned more about flying as his passenger than I would actively flying myself with verbal instruction.
Finally, we did take my bird into the air so I could practice the approach to Hidden Splendor. I feel I could land there solo and LaVar feels I could land there solo. When I get my new 160-HP engine, I look forward to doing that. The FAA may not recognize any official endorsement to land at Hidden Splendor, but I do.
<! : 6ps 6ps uy5 >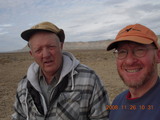 We also checked out LaVar's new project, building a solar-powered well to get water out of the ground for cattle to drink with photovoltaic panels. The panels were there as was a round, blue, pool-like area and we could see the workmen around a fire. You don't have to be a "tree hugger" to appreciate how nice it is when you can let the desert sun do the work to provide drinking water. <! EDIT >
| | | | |
| --- | --- | --- | --- |
| <! 1 > <! : 6ps 6ps v3t > | <! 2 > <! : 6ps 6ps v3z > | <! 3 > <! : 6ps 6ps v45 > | <! 4 > |

Back-Country Summary



<! : 6ps 6ps v5m >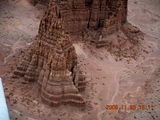 So what have I learned in earning my Utah-back-country solo endorsement? I've learned one more aspect of flying an airplane that I didn't know before I flew here. Precise flying is a prerequisite for back-country flight. Canyon approaches and short runways require good flying skill. One-way airstrips and un-flyable gusty winds require good judgment. Learning from more-experienced pilots is an essential part of a back-country pilot education.

<! : 6ps 6ps uw2 >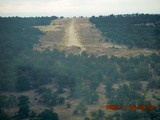 The corollary of precise and skilled flying is respect. Knowing our limitations is essential when exceeding them is punished by crashing into rocks. This is no place for horsing around. If you want to see the canyons, formations, and hide-away airstrips of Utah's back-country, then you should leave any cowboy attitudes behind.

<! : 6ps 6ps v06 >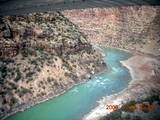 The reward for this discipline is the immediate and immense beauty of the back-country. I've landing in a lot of places and flown over a lot of scenery and there is nothing else like the places I flew here. Now that I have flying experience and the benefit of LaVar's teaching, I do want to see the canyons, formations, and hide-away airstrips of Utah's back-country. There are formations and shapes here that bring intense joy to pilot and passengers alike. LaVar's long experience tells me the joy of this place can last as long as we fly here. I look forward to coming back here.
| | | |
| --- | --- | --- |
| <! 1 > <! : 6bf 6bj ryi > | <! 2 > <! : 6bf 6bj s37 > | <! 3 > <! : 6bf 6bj s59 > |
| <! 4 > <! : 6bf 6bj rzn > | <! 5 > | <! 6 > <! : 6bf 6bj s3h > |