Toys
I used my Garmin Forerunner 201 Global Positioning System (GPS) while I was hiking and running the trails. The steep canyon walls of Zion made it unable to pick up a signal much of the time, so it wasn't as useful as it was at Canyonlands or during my regular morning runs in Scottsdale, but it gave elevations and some distance information.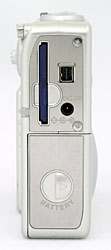 <!p> My new toy for this trip is a Minolta Dimage X31 camera with enough memory to take oodles of pictures, about 1600 at the resolution I use for these web snapshots. Unlike my analogue camera that goes about a year between battery changes, this "puppy" draws enough juice to require two sets of Nickel Metal Hydride AA batteries with recharging every night.
Toys don't make the trip, not wrist-GPS-trackers nor digital cameras nor even airplanes, but they do make it more fun. Here's to my next Zion trip.



Pop Quiz for 2004 December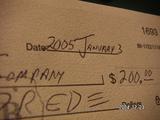 <!p> How many cheques are you going to write next month before you remember to put the year 2005 on them instead of 2004?