<! : 010 5bs krv>

As a teenager I started running on the beach because it seemed like something fun and challenging to do. Soon I could run a mile, all the way to the yellow house and back, and even two miles. It was a social activity if I ran with somebody and I found I enjoyed the solitude of an ocean sunrise as I made my way along the tide. Once or twice my bright red hair was a target for seagulls, a scene from Alfred Hitchcock, but otherwise I was left alone to enjoy the mornings.
A friend exposed me to cross country [2], a three mile race in the woods or a park where a bunch of guys from two high schools would score their first five runners by place and the team with the low score wins, "just like golf." (I can think of no other similarity as golf and cross country are about as unlike each other as two sports can be, but they always add "just like golf" when describing cross country scoring as if there were no other sport where a low score wins.)
<! : 48v 48v 1g4>

I went through two doorways that summer. First was being part of an interscholastic athletic team and second was training for a running race. My view of sport was changed in many ways, mostly in that I was now part of it. I have been a "jock" for a third of a century.
<! : 171 5c8 jrb>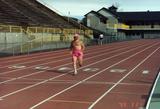 My freshman year in college I was left in the dust by the cross country team that had five runners under 25:00 for five miles [3]. A friend introduced me to the marathon and its associated world of road racing. I became a morning runner, doing my thirteen miles before breakfast. "Early to rise, early to bed, makes a man healthy and socially dead." Somehow I managed to keep a social life in college, but it wasn't late at night.
The marathon for me was a competitive event, no longer against other runners but against the clock, a new doorway for me. After an auspicious 3:12 initial effort I felt a 2:50 marathon was within my grasp. My ultimate marathon effort is 3:03:30 and I'm pleased with that. I'm also pleased I'm still running marathons thirty years later [4].
<! : 451 5cp jxw>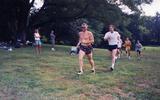 There are doorways beyond my reach, or, perhaps, beyond where I choose to reach. There have always been ultra-marathon races, further than the 26.2-mile (42.2-Km) standard marathon. Around 1978 a bunch of guys decided to come up with a super-ultimate event called the Ironman, 2.5-mile (4 Km) swim, 112-mile (180 Km) bicycle ride, and 26.2-mile (42.2 Km) run which evolved into an entire sport and community of triathlon complete with Olympic representation. These are wonderful sports upon which I gaze with intrigue and fascination, but of which I have no true desire to partake.
There is a growing dark side of sport, the so-called fitness movement, that has, in my never-too-humble opinion, missed the point. There are two points to sport, again in my opinion, athletic achievement is one and positive experience and growth are the other. Other benefits are gravy, nice but not the point.