2023 February 5 - Philadelphia Ballet - Forward Motion
<! : a1lf blj pcf >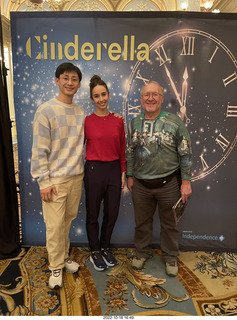 Last night was a wonderful performance by the Philadelphia Ballet called "Forward Motion." While it's important for ballet to keep its roots intact with performances of "Swan Lake," "Sleeping Beauty," and, of course, "The Nutcracker," it is also important to keep innovating with new choreography, to extend the frontier of ballet as an art form.
I think it's important to keep ballet faithful to itself. I attend a lot of dance performances that are not ballet, Alvin Ailey, Aljibe Tango (Argentina), Aspen Sante Fe Ballet, Bodytraffic, Carraria Agwa, Merce Cunningham, Diavolo, Dorrance, Forever Tango, Limón, Momix, Dave Parsons, Polobolus, Paul Taylor, Royal Cambodian Ballet, Samhära (India), and a few others whose programs I can't find at the moment. With a few exceptions I have enjoyed these thoroughly. As these are not ballet companies, even if one or two of them have "Ballet" in their titles, I don't insist their dance be true to the art of ballet. On the other hand, in my own humble opinion, a big-city ballet company program should be faithful to ballet.
I've had people say maybe I should be more open minded. I should think outside the box. I had a cat who would think outside the box and I had to clean it up each morning, so much for thinking outside the box. Sure, if Philadelphia Ballet wants to perform stuff that clearly isn't ballet, then that's their privilege, but I would personally prefer more ballet in the ballet than the last two pieces in this program.
The first work, "PS," was exactly what I came for, all ballet, aggressively new, definitely not George Balanchine without being obviously, deliberately different. It had ballet's turns and pirouettes with ballerinas on pointe, fewer leaps than most ballet but plenty of pizzazz. This is what I like in a "Forward-Motion" ballet program.
Other than a few turns en pointe, the others struck me as not enough ballet for what I came for. "ENdure" was too much just walking around for my taste in loose, full-body red and maroon outfits while "Circumstellars" was a terrific, high-energy piece of modern dance, wowie-zowie, lots of fun. The athleticism of the company was well suited for this and I enjoyed it thoroughly. This was a work a modern dance company would be totally proud to perform. I felt a little awkward seeing it from a big-city ballet company. <! ================================================================ >