CAVEMAN RANCH FLY-IN
2012 May 2-4
<! : 7ww 7ww vjb >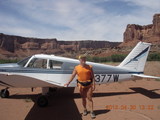 122.9 MHz is usually quite quiet in southeast Utah. Twice a year I've been flying to Moab and I make my calls to back-country strips Hidden Splendor, Cedar Mountain, Mexican Mountain, Angel Point, Sage Brush, Sand Wash, Mineral Canyon, Happy Canyon, Dirty Devil, Brown's Rim, Caveman Ranch (Tangri-La) White Wash Sand Dunes, Eagle City, and Nokai Dome "in the blind" without hearing much back. This trip, 2012 April 30 to 2012 May 5, was quite different.
When I stopped at Nokai Dome on Monday I saw a couple of airplane taking off. With my rental car not available much after three o'clock, I didn't have time to join them for the lunch they offered at Monument Valley. As I worked my way north to Moab (CNY), Utah, I heard somebody on the radio going into Mineral Canyon. As winds were picking up, I was relieved to see an airplane on the ground there. Canyon winds can get exciting, especially when I'm flying low and slow on final to a short airstrip. When I did my fly-by to check runway conditions, I got a call (by name, from my web page, not the first time) from Jerry and Deborah who were staying there.
| | |
| --- | --- |
| <! : 7x5 7x5 xgo > | <! : 7x4 7x4 w79 > |
Lori MacNichols was offering her McCall Mountain/Canyon Flying Seminar "Canyonlands Safari" once again, this time from Bluff, Utah. (She may charge a lot for the course, but people seem to feel they got their money's worth.) My Utah-back-country instructor and friend LaVar Wells was one of her training instructors for the course and we agreed to listen for each other on 122.9 when I called to tell him I was coming to visit his home area.

Wednesday was some back-country flying with solitary experiences at White Wash Sand Dunes and Sand Wash as well as a stop at Mack Mesa in Colorado. While winds were picking up enough to keep me out of Hidden Splendor and Happy Canyon further south, Sand Wash remained calm enough to land there.

<! : 7x4 7x4 w3s >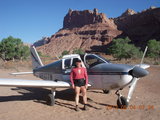 The Great Big Event of the week was a back-country fly-in right on the Colorado River at Caveman Ranch (UT68), also known as Tangri-La. (It's owned by the Tangren family.) I planned my trip around this event and so did a lot of other pilots. Before going to Caveman Ranch on Friday I set down at Cedar Mountain with nobody else around and then at Mexican Mountain where I saw a couple of airplanes. One was temporarily abandoned with a flat tire while the owners were getting help and the other was a Piper Cub called "CoyoteUgly" owned by Theresa and Jim. While Theresa, Jim, and I were checking out some petroglyphs and other local scenery, another airplane landed, the tire was repaired, and both airplanes departed. After that, high winds kept me away from the shorter, narrow, scarier airstrips. While I was flying I heard LaVar on the radio wishing me safe and happy flying. I also heard pilots going into lots of the local airstrips including a couple too rough-and-tumble for my comfort in my Piper Cherokee. The radio wasn't quite as busy as Deer Valley (DVT) here in Phoenix, but it sure was hoppin'.
<! : 7x5 7x5 xgu >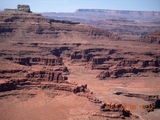 By Friday Caveman Ranch was packed with airplanes, especially Maules. They were almost all high-wing airplane with big tires for back-country adventures. Most of the airplanes had tents next to them as people were camping with their airplanes. Diane and Joe were in from Tucson and I met folks from Idaho, Nevada, and Colorado. Everybody had stories to tell, many of their experiences that morning at the local airstrips. One fellow mentioned using my videos to prepare for landing on these airstrips. It was fun meeting other back-country pilots, many of whom had never flown in this strikingly-beautiful area. Friday dinner was a barbecue 60 nautical miles up the Colorado River at Mack Mesa (C07), Colorado. Food was good, company was better, and the almost-sunset flight back was wonderful.
Saturday I stopped at Caveman again before heading back home to Phoenix to rejoin my regular life.
For those interested in more information about southeast Utah in general and these airstrips in particular, I heartily recommend joining the Utah Back Country Pilots http://www.utahbackcountrypilots.org and buying a copy of Galen Hanselman's book Fly Utah! Besides the charts, maps, and airstrip data and photos, the stories are terrific. Who knows? Some of them may even be true. I have a list of all my back-country airstrips with links /adam/airports/latlong.html on Google Maps and /adam/airports/sky.html on SkyVector. My Vimeo videos /stuff/movie/list.html have been used for amusement and education.